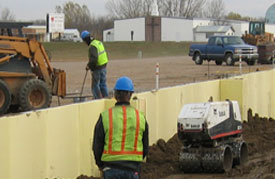 ---
Industrial Contract Services, Inc. hires applicants based solely upon merit.
It is the policy of ICS, Inc. to provide Equal Opportunity to all employees and applicants for employment in accordance with all applicable Equal Employment Opportunity/Affirmative Action laws, directives and regulations of Federal, State, and Local governing bodies or agencies thereof.
Our organization will not discriminate against or harass any employee or applicant for employment because of race, color, creed, religion, national origin, sex, sexual orientation, gender identity, disability, age, marital status, military participation, citizenship status, membership or activity in a local human rights commission, or status with regard to public assistance.
It is the policy of ICS, Inc., to assure that applicants are employed, and that employees are treated during employment without regard to their race, religion, sex, color, age, disability or national origin in regard to any position for which the employee or applicant for employment is qualified. Such action shall include: employment, upgrading, demotion, or transfer; recruitment or recruitment advertising; layoff or termination; rates of pay or other forms of compensation; and selection for training, including apprenticeship, pre-apprenticeship and/or on-the-job training. Also, it is the policy to insure and maintain a working environment free of harassment, intimidation, and coercion.
All promotions within ICS, Inc. shall be given to the best qualified employee available without discrimination because of race, religion, color, sex, national origin, disabilities, or military participation
Applications may be obtained in the main office of ICS, Inc. located at 2500 State Mill Road in Grand Forks, ND.
ICS,Inc. WILL NOT accept applications that have not been fully completed, signed, and submitted by the applicant applying for the position.
Applications are considered active for a period of ninety (90) days. If an individual wishes further consideration after the ninety (90) day period, a new application must be completed.
Hiring will be determined upon a personal interview and position availability.
False or misleading statements or omissions made on an application or during the interview process may result in the termination of consideration for a position or, if discovered after employment has begun, will result in the termination of employment.
An offer of employment is contingent upon the applicant's successful competition of a pre-employment drug screen.
An offer of employment may be contingent upon the applicant's successful completion of a pre-employment background check.