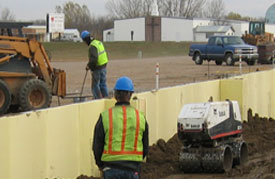 Project Manager
Location:
Grand Forks, ND
General Purpose: The project manager is responsible for overall project planning and scheduling, resource allocation, project accounting, and control, while providing technical direction and ensuring compliance with quality standards. The project manager responsibilities span a broad spectrum, covering all the areas of project management like - Project Planning, Cost Management, Time Management, Quality Management, Contract Administration, and Safety Management.
Work Schedule: 45+ hours per week Monday through Friday.
Requirements:
Required Education
Bachelor's degree in civil engineering, construction engineering, construction management or similar field of study

 

Required Experience

5 or more years of experience in construction projects

 

Required Skills/Licenses/Certifications

Excellent presentation, verbal, written and interpersonal skills

Thorough knowledge of legal issues and safety standards is essential

Active driver's license with a driving record representative of a safe driving history

Excellent communication skills.

Ability to plan and organize a team effort.

Capacity to motivate, lead and boost morale of the teams.

Effective time management and logical decision-making ability.

Capacity to handle pressure.

Willingness to travel extensively across the construction sites.

Strong focus on quality.
 
Supervisory Responsibility
Co-ordinate the efforts of all parties involved in the project, which include the architects, consultants, contractors, sub-contractors and laborers.
Physical Demands & Working Conditions
The overall nature of the position is sedentary in nature requiring little physical effort and occasional light physical exertion.  There is occasional exposure to environmental conditions such as heat, cold, temperature changes, industrial noise, and construction hazards usually accompanied by business travel and visits jobsites and clients.
The constant physical demands of the position are talking and hearing.

The frequent physical demands of the position are sitting, standing and walking.

The occasional physical demands of the position are carrying, pushing, pulling, handling, repetitive motions, and eye/hand/foot coordination.

 

Travel Requirement
This position requires over-the-road travel and occasional air travel.

 

Required Personal Protective Equipment

Employees must use hard hats, eye protection (ANSI Z87), hearing protection (where required), safety-toe protective footwear (ANSI Z41) and gloves as required by industry/construction safety standards or as deemed necessary by Company safety policy and procedure.
Responsibilities:
Responsibilities & Duties
Develop new and maintain existing customer relationships

Assist Safety Director and Executive Management in setting annual company goals and monitoring progress.

Charting out the project objectives and plans, setting performance requirements, and selecting project participants.

Bringing about optimum utilization of resources- labor, materials and equipment, and ensuring their procurement at most cost-effective terms.

Implementation of various operations through proper coordination.

Development of effective communications and mechanisms for resolving conflicts among the various participants.

Oversee the construction project from start to finish.

Perform a key role in project planning, budgeting, and identification of resources needed.

Create the teams, develop the objectives/goals of each and assign individual responsibilities.

Project accounting functions including managing the budget, tracking if team expenses and minimizing exposure and risk in the project

Ensure that construction activities move according to predetermined schedule.

Devise the project work plans and make revisions as and when need arises.

Communicate effectively with the contractors responsible for completing various phases of the project.

Monitor the progress of the construction activities on a regular basis and hold regular status meetings with all the sub-teams.

Maintain strict adherence to the budgetary guidelines, quality and safety standards.

Periodic inspection of construction sites.

Ensure project documents are complete.

Identify the elements of project design and construction likely to give rise to disputes and claims.

Serve as a key link with the clients and review the deliverable prepared by the team before passing onto client.

Maintain customer/potential customer contact lists

Perform other duties as assigned
Benefits:
APi Group provides competitive compensation and benefits that support the total well-being of you and your family, as well as providing formal learning and development opportunities to continue building great leaders.
Pay Range:
Pay depends on your level of experience and education.
Contact:
Toni Autrey
Contact Phone:
701-739-5563
Contact Email:
Z2Jhdi5uaGdlcmxAdnBmdHMuaGY=|Z2Jhdi5uaGdlcmxAdnBmdHMuaGY=
See all of our current job openings.
---
Industrial Contract Services, Inc. hires applicants based solely upon merit.
It is the policy of ICS, Inc. to provide Equal Opportunity to all employees and applicants for employment in accordance with all applicable Equal Employment Opportunity/Affirmative Action laws, directives and regulations of Federal, State, and Local governing bodies or agencies thereof.
Our organization will not discriminate against or harass any employee or applicant for employment because of race, color, creed, religion, national origin, sex, sexual orientation, gender identity, disability, age, marital status, military participation, citizenship status, membership or activity in a local human rights commission, or status with regard to public assistance.
It is the policy of ICS, Inc., to assure that applicants are employed, and that employees are treated during employment without regard to their race, religion, sex, color, age, disability or national origin in regard to any position for which the employee or applicant for employment is qualified. Such action shall include: employment, upgrading, demotion, or transfer; recruitment or recruitment advertising; layoff or termination; rates of pay or other forms of compensation; and selection for training, including apprenticeship, pre-apprenticeship and/or on-the-job training. Also, it is the policy to insure and maintain a working environment free of harassment, intimidation, and coercion.
All promotions within ICS, Inc. shall be given to the best qualified employee available without discrimination because of race, religion, color, sex, national origin, disabilities, or military participation
Applications may be obtained in the main office of ICS, Inc. located at 2500 State Mill Road in Grand Forks, ND.
ICS,Inc. WILL NOT accept applications that have not been fully completed, signed, and submitted by the applicant applying for the position.
Applications are considered active for a period of ninety (90) days. If an individual wishes further consideration after the ninety (90) day period, a new application must be completed.
Hiring will be determined upon a personal interview and position availability.
False or misleading statements or omissions made on an application or during the interview process may result in the termination of consideration for a position or, if discovered after employment has begun, will result in the termination of employment.
An offer of employment is contingent upon the applicant's successful competition of a pre-employment drug screen.
An offer of employment may be contingent upon the applicant's successful completion of a pre-employment background check.