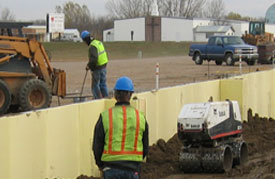 Project Superintendent
Location:
Grand Forks, ND
General Purpose: Primary responsibilities are to direct, plan and manage construction project(s) on the jobsite.  Projects to be completed ahead of schedule, within budget and in compliance with company safety and procedural policies.
Work Schedule: Days and hours vary depending on the assigned project.
Requirements:
Required Experience
Seeking Slip-form experience

Minimum of 7 year of experience

Should have the same basic aptitude and interests as those working in the craft, being supervised plus additional reading, writing and math skills
Required Skills/Licenses/Certifications
Valid driver's license to operate motor vehicles.

Ability to estimate

Must possess strong communication and management skills

Computer skills

Microsoft office (word, excel, outlook)

Complete timecards and daily reports

Ability to write routine reports and correspondence

Ability to speak effectively before groups of customers or employees

Ability to calculate figures and to apply concepts of basic algebra and geometry

Ability to define problems, collect data, establish facts and draw valid conclusions

Ability to interpret an extensive variety of technical instructions in mathematical or diagram form and deal with several abstract and concrete variables

Proficient in one or more craft areas

Ability to work well under pressure and work within timelines

Read and interpret documents such as safety rules, operating and maintenance instructions and procedure manuals

 
Supervisory Responsibility
Oversee Field Superintendents, Foreman and Leadmen and responsible for the overall direction, coordination and evaluation

Directly supervise up to 100 plus non-supervisory employees

Carryout supervisory responsibilities in accordance with the organization's policies and applicable laws

Responsibilities include planning, assigning and directing work; rewarding and disciplining employees' addressing complaints and resolving problems

 

Physical Demands & Working Conditions

The physical demands described here are representative of those that must be met by an employee to successfully perform the essential functions of this job.  Reasonable accommodations may be made to enable individuals with disabilities to perform the essential functions

Able to bend, stoop, squat, crawl, climb, kneel, balance, push, pull, and reach overhead for extended periods of time.

Climb and descend all types of ladders.

Wear personal protective equipment (i.e., hardhat, eye protection, respiratory protection, fall protection, etc.)
Required Tools
See Tool Requirements

 

Travel Requirement
Work Environment 
The work environment characteristics described here are representative of those an employee encounters while performing the essential functions of this job.  Reasonable accommodations may be made to enable individuals with disabilities to perform the essential functions.
Position requires working in all elements – heat, cold, rain, or snow – depending on job location and time of year.

May require use of personal vehicle for transportation to and from work site. 

Must be able to utilize job site sanitary facilities (i.e., Portable Toilets).

May require work in restricted areas (i.e., excavations, utility tunnels, manholes, tanks, crawl spaces, attics, etc.).

May require working at various heights, up to 100-feet, from ladders, scaffolds, aerial lifts, catwalks, or other safe work areas.
Required Personal Protective Equipment
Employees must use hard hats, eye protection (ANSI Z87), hearing protection (where required), safety-toe protective footwear (ANSI Z41) and gloves as required by industry/construction safety standards or as deemed necessary by Company safety policy and procedure.
Responsibilities:
Responsibilities & Duties
Must be able to perform all duties required of a Field Superintendent and Foreman

Directly supervise and coordinate activities of Superintendents, Foreman and/or construction trade workers in one or more occupations

Keep records in a systematic, well organized fashion

Make key decisions in a well thought-out manner

Use and maintain schedules to measure time and production to meet requirements

Ability to negotiate change orders

Monitor all required paperwork for entire job

Ability to communicate effectively in both oral and written form to large employee groups, owners or engineers

Maintain and enforce discipline throughout the jobsite

Interview, hire and train employees

Carryout supervisory responsibilities in accordance with the organization's policies and applicable laws

Maintain a professional appearance

The duties of a Project Superintendent will vary by client and project size with varying degrees of responsibility and authority

Maintain a professional appearance

Other duties as assigned by Project Manger or Vice President
Benefits:
APi Group provides competitive compensation and benefits that support the total well-being of you and your family, as well as providing formal learning and development opportunities to continue building great leaders.
Pay Range:
Pay depends on your level of experience and education.
Contact:
Toni Autrey
Contact Phone:
701-775-8480
Contact Email:
Z2Jhdi5uaGdlcmxAdnBmdHMuaGY=|Z2Jhdi5uaGdlcmxAdnBmdHMuaGY=
See all of our current job openings.
---
Industrial Contract Services, Inc. hires applicants based solely upon merit.
It is the policy of ICS, Inc. to provide Equal Opportunity to all employees and applicants for employment in accordance with all applicable Equal Employment Opportunity/Affirmative Action laws, directives and regulations of Federal, State, and Local governing bodies or agencies thereof.
Our organization will not discriminate against or harass any employee or applicant for employment because of race, color, creed, religion, national origin, sex, sexual orientation, gender identity, disability, age, marital status, military participation, citizenship status, membership or activity in a local human rights commission, or status with regard to public assistance.
It is the policy of ICS, Inc., to assure that applicants are employed, and that employees are treated during employment without regard to their race, religion, sex, color, age, disability or national origin in regard to any position for which the employee or applicant for employment is qualified. Such action shall include: employment, upgrading, demotion, or transfer; recruitment or recruitment advertising; layoff or termination; rates of pay or other forms of compensation; and selection for training, including apprenticeship, pre-apprenticeship and/or on-the-job training. Also, it is the policy to insure and maintain a working environment free of harassment, intimidation, and coercion.
All promotions within ICS, Inc. shall be given to the best qualified employee available without discrimination because of race, religion, color, sex, national origin, disabilities, or military participation
Applications may be obtained in the main office of ICS, Inc. located at 2500 State Mill Road in Grand Forks, ND.
ICS,Inc. WILL NOT accept applications that have not been fully completed, signed, and submitted by the applicant applying for the position.
Applications are considered active for a period of ninety (90) days. If an individual wishes further consideration after the ninety (90) day period, a new application must be completed.
Hiring will be determined upon a personal interview and position availability.
False or misleading statements or omissions made on an application or during the interview process may result in the termination of consideration for a position or, if discovered after employment has begun, will result in the termination of employment.
An offer of employment is contingent upon the applicant's successful competition of a pre-employment drug screen.
An offer of employment may be contingent upon the applicant's successful completion of a pre-employment background check.